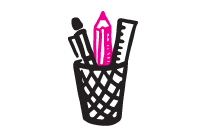 "Genius is one percent inspiration and ninety nine percent perspiration" Thomas Edison.
Too much marketing has failed because it has been left to 'creative' people who very often have no real concept of what works in the real world and what does not.
At RWP for creative to 'work', we mean sell – whether that is selling an idea, a conviction, a brand, a product or a service. Many designers are not marketing experts; they don't know how to sell, this is one of the main reasons that most adverts don't work, most leaflets don't convert and most websites don't perform. At RWP believe in 'real world' techniques; we resist the temptation to entertain instead of sell. We at RWP believe that design is for selling and not some sort of avant-garde art form.
Most creatives study art at school, design at university, the problem is that they are 'creative' which is fine if you want a piece of art but no good at all if you want to sell something.
"Getting a web designer to build your website is like getting a painter and decorator to build you a house…it just won't work" John Hollands
If it doesn't sell it's not creative
At RWP we blend behavioural psychology with sales and marketing experience and a creative flair to produce designs, content, and ideas to illicit results. At RWP believe there is no black art in promoting an organisation or its products; what we do is a craft, part inspiration, but mostly know-how and hard work.
Following a brief, RWP GROUP's policy is to hold an internal meeting of creatives and marketers to ensure that the projects will produce results, are appropriate for the context/media and that any designs are more than just pleasing to the eye. Our designers have experience in direct marketing principles and will be happy to talk through what works with you.
Because RWP owns its own production facilities we ensure that all jobs will run smoothly through our production processes and can be easily adapted for cross media purposes. This not only ensures that designs actually 'work' but that the production and studio times can be reduced saving you money and insuring better response rates. Our design team act as brand custodians and are versed in producing materials for some of the countries largest brands.
Every week our studio come across designs where forms don't have enough space for people to respond correctly. Response coupons that don't capture people's data, adverts without a call to action, websites with no data capture and folders that don't fit in standard envelopes.
Don't get me wrong creativity is at the heart of our organisation, we are experts in engaging audiences and creating marketing materials and messages your audiences will love, engage with and respond to.
We have the experience to integrate design in more efficient and effective ways, across media that will get results wherever your audience is. Online, offline, press, packaging, outdoor, radio, apps, direct mail, social media – whatever works best for them.